One day trips from Athens
One of the top things about a voyage to Athens is its proximity to outstanding whitewashed Greek islands, charming villages and ancient historical cities making one day trips from Athens ideal for short excursions.
Each island or village you will visit, has a clear-cut character, culture and color. The occupants themselves, known for their filoxenia (hospitslity) or, graciousness, will welcome you with a smile and ask for you to try their local specialties.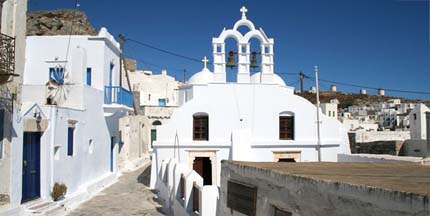 If you are planning to stay in Athens for a short while you can take one of these one day trips from Athens and see for yourself the beauty that these places have to offer, it is worth it believe me. You will be glad you got along. While in Athens, hop on all over to one of the islands of the Argosaronic Gulf.
The islands off the coast of the Saronic Gulf are ideal one-day trips from Athens.
Agistri, Aigina, Hydra, Poros and Spetses are popular destinations amongst the Athenians, indicating their special standing among Greece's many islands.
Cruises that tour the islands in one day are available, as are easy connections from each, should you choose to explore them at your leisure time. Enjoy.
Apart from those islands ther are still some other places you should visit. Here are a few examples:

1. Ancient Olympia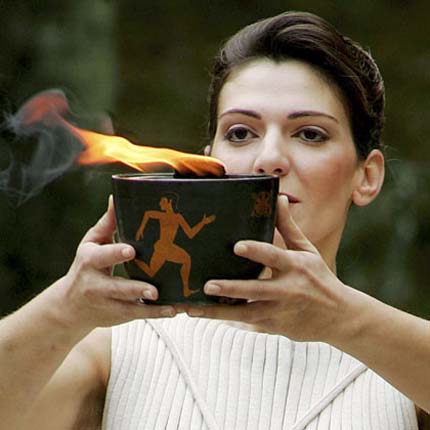 Where: Prefecture of Elia in southern Pelopponese 320 km (200 miles) south of Athens
Why: One of the most sacred ancient centers of religious worship, Olympia, built in honor of Zeus and easily accessible by boat, was chosen as the birthplace of the Olympic Games. In times of peace and war (if there was a war going on it would have to stop for the Olympic Games, the war would continue after the Games), the Greeks would compete for a crown wreath made of olive leaves. The Olympic Museum housing such ancient sports artifacts including bronze athletes' discuses; bronze strigils used by athletes to scrape the oil and dust off their bodies; and halters, stone or lead weights held by jumpers for greater momentum.
How to get there: By car, bus or train, or you can ask George the taxi driver to get you there. Approximate travel time from Athens: 4.5 hours by car.
 Don't miss: The ancient stadium, the ancient gymnasium, the Temple of Zeus, considered being one of the finest examples of Doric architecture.
2. Nafplion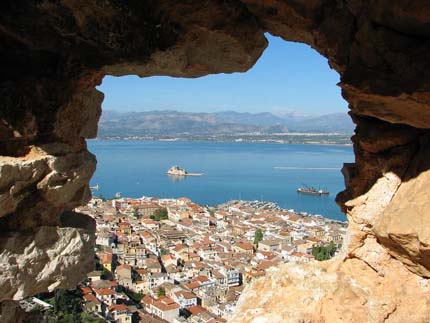 Where: 145 kilometer (90 miles) southwest of Athens
Why: The first working capital of contemporary Greece, Nafplion, has one of the top pleasant ports and marble paved proms in Greece. The Venetian fortress higher up and the mini-castle on the tiny island in the harbor are factors that have held Nafplion one of the most charming towns in the Peloponnese. It is also your ideal home base for day trips to the ancient sites at Argos, Nemea, Mycenae, Tiryns, Epidavros (the ancient theater is a must-see!), and Ancient Corinth.
How to go there: By car, bus or train Approximate travelling time from Athens: 3 hours
Don't miss: Venetian Fortress of Palamidi; Bourtzi, the mini castle on a mini island in the harbor (a boat will take you there in the summer).
Beaches: Arvanitia, Karathonas
Must try: An ice-cream sundae at one of the numerous cafes on the promenade.
3. Spetses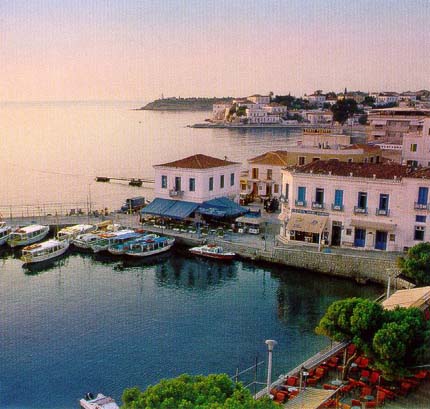 Where: 85 kilometer (53 nautical miles) southwest of Piraeus
Why: Horse-drawn carriages through Venetian determined architecture, worldwide nightlife and a favored amongst Athenian aristocracy.
How to get there: By high-speed hydrofoil from Piraeus. Connections available from neighbouring islands Hydra and Poros.
By car: Drive to Costa (60 minutes) in the Peloponnesian Peninsula and get the 15-min ferry ride over.
4. Delphi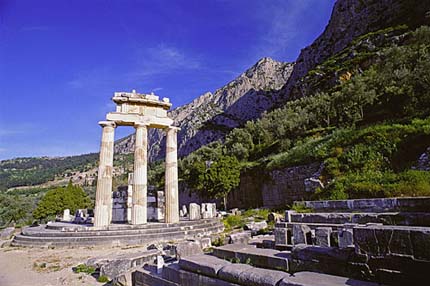 Where: 170 kilometres northeast of Athens In the heart of Sterea Greece
Why: Delphi was revered throughout the Greek world as the site of the omphalos stone, the centre of the earth and the universe. Delphi is located at coordinates 38°29' N 22°30' E in the heart of Sterea Greece. It attracts thousands of visitors every year due to the natural beauty that surrounds the area and the historic significance that it has.
How to get there: By car, bus or train, or you can ask George the taxi driver to get you there. Approximate travel time from Athens: 2.5 hours.
Keep an eye on this page for more information on one day trips from Athens as more suggestions will come on this page in the near future.